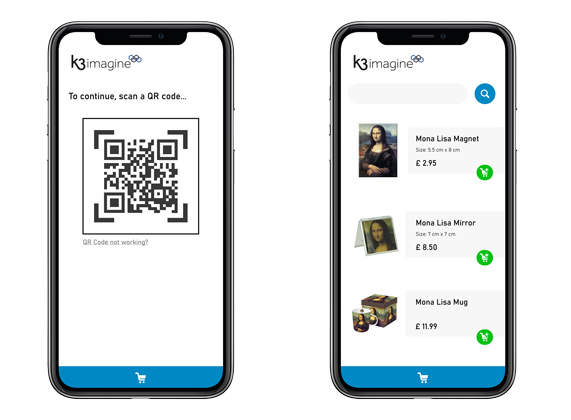 Virtual visit & pre-order
The museum experience often starts online, browsing through the current exhibitions and paying a virtual visit to the museum. Visitors often purchase their tickets online, to avoid queues on the day of their visit.
Customers might also wish to pre-order souvenirs or pieces of art beforehand and avoid queues in the shop, or disappointment if a sought-after item is sold out. They can then simply collect their purchases at the pick-up desk or have them shipped home. This can all be done using the K3|imagine 2 Metres Self-order tool on their own device, from the comfort of their own home.
Visit & pick up
It is also possible to use the 2 Metres Self-order tool whilst walking around the museum or gallery.
Visitors can view books, reproductions or other souvenirs related to the very piece of art they are currently stood in front of! It's simple to select the items they wish to buy, pay for them easily with their own smartphone and pick the items up at the museum store on exit.
They could also have them shipped to their home address, to avoid damaging them in the pouring rain, or having to fit them into the airplane's overhead lockers.
For smaller museums and galleries, it can be challenging to build and maintain a full e-commerce environment – this is where the K3|imagine 2 Metres Self-order tool offers a lean and riskless way of offering merchandise for sale online.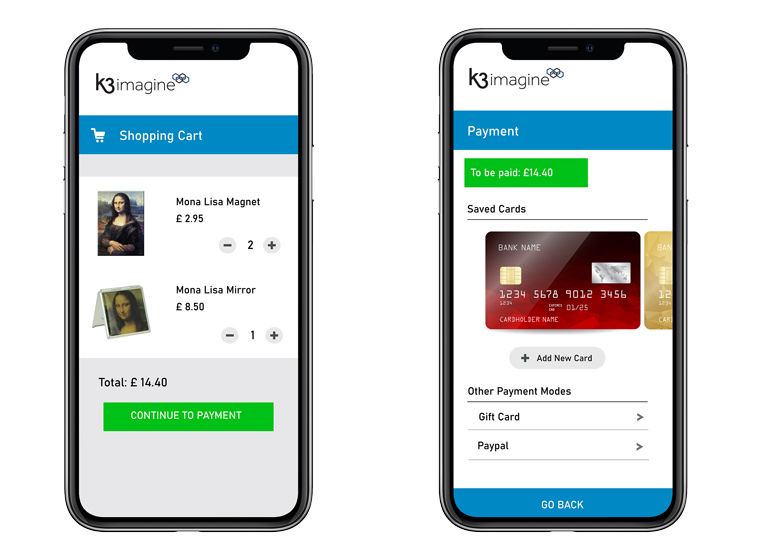 K3 also offers full Point of Sale, Back Office and ticketing solutions that can be integrated with an e-commerce solution using our in-house integration tool, K3|dataswitch.
Find out more
If you would like to find out more about the 2 Metres app, or need to develop a retail app for your business, please contact us today.